Oil and Gas companies are charged to operate within cash flow in an environment with high operating costs, shrinking profit margins, and access to capital is shutting its doors.
Even before coronavirus shook global supply chains and the Saudi-Russian price war shocked energy companies around the world, the industry was already operating under tighter purse strings than previous years.  We'll look at the three factors affecting the sustained landscape from a strategic asset management perspective:
1. Tightening profit margins
Low break-even points and strict capital discipline have put every major cost center under the microscope. Global consumption trends have been rocked to their core by travel restrictions and radical adoption of the work from home movement, draining the demand for fuel around the globe. Making asset operation decisions without the critical details is short-sighted and reactionary, there is no room for haste right now. Tightening purse strings isn't a new concept for the industry. For example, in January 2018, BP set a precedent for approval of any new project proposal by requiring profitability at $40/bbl, and in March 2019, Exxon Mobil Corporation said it was planning to reduce costs to around $15/bbl. To uphold this type of capital discipline, companies must evaluate their assets, processes, and efficiency gaps, and focus on the commercial viability of their portfolio and potential expansion.
2. Variety and creativity in operating terms, contract clauses, and legislation
While standard lease forms still exist (with a very interesting history discussed here), custom lease provisions have opened a Pandora's box for interpretation and litigation around two important topics negotiated between parties: money and time. Acreage retention, depth severances, and royalty deductions are some of the most complex provisions that will continue to be litigated amongst parties seeking to salvage value from their investments. Therefore, they yield widely variable interpretations after the ink has dried on the signature line. Your ability to evaluate, assess exposure and respond after thoughtful consideration of your position and impact is limited by the access you have to each and every critical detail.
3. The volumes of unstructured data every organization has or hasn't harnessed
The number of contracts negotiated, reviewed, executed, amended, revised, extended, side letter, master service, request for proposal, service level, product level, assigned, merged, or terminated in the history of property rights and resource harvesting is the vast amount of valuable information inherently living as 'unstructured data' has the potential to improve operational efficiencies, identify opportunities (such as acreage trades and beyond), and add major value to the bottom line. Consider where the capital hurdles appear when missing these provisions: on the reserves report and forward-looking statements. The loss of PUDs in your development plan and any future uphole or downhole development potential will radically devalue the company's assets. When these details are not readily available or easily accessible,  the result is countless man-hours lost for true analysis and increased risk in those assumptions.
What exactly is unstructured data?
It's a term used for the information locked away within the pages of documents, communications, contracts, agreements, opinions, legislation, permits, and any other text-based strategic record. It's critically important for companies to recognize that unstructured data is fundamental to the link between profit margins and lease provisions.
Lack of visibility into these details causes companies to pay millions in avoidable penalties, mismanage their assets, lack understanding of at-risk scenarios, inappropriately sequence portions of an asset, operate inefficiently, and miss out on major opportunities in negotiations, A&D, and day-to-day operations. Responsible operators are harnessing unstructured data to create capital-efficient operations.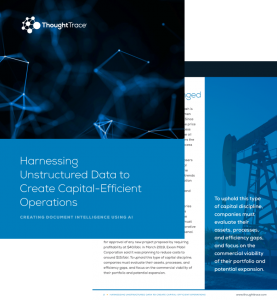 .