A New ThoughtTrace User Experience: Unified, Searchable, Fast Favorites, and Secure Team Management
When I joined ThoughtTrace as Lead Product Designer in 2019, I was excited about our team's passion to keep the needs of our users at the forefront of the design process. That emphasis has helped us realize tremendous value for our customers with our innovative suite of document intelligence tools: Document Insights, Provision Insights, and Data Insights.
While these tools do amazing work both individually and together, it became clear that they would provide more unity and consistency if the disparate parts were redesigned as a unified platform. Thus, the decision was made to start designing the new ThoughtTrace platform.
After months of research and collaboration with our customers, the all-new ThoughtTrace platform will be released in just a few weeks and it will redefine Document Understanding. Let's take a look at a few major improvements.
One Platform to Understand Your Documents
For current customers, one of the most impactful changes is that ThoughtTrace is now a single, unified platform. Users will no longer wait on documents to upload in one tool, send them to another tool for analysis, and yet another for reporting.
Now, as soon as your document is added to ThoughtTrace it's instantly classified and analyzed by industry-specific AI to reveal the Thoughts and connections hidden within. Your team now has a single place to look when they need intelligent answers, fast.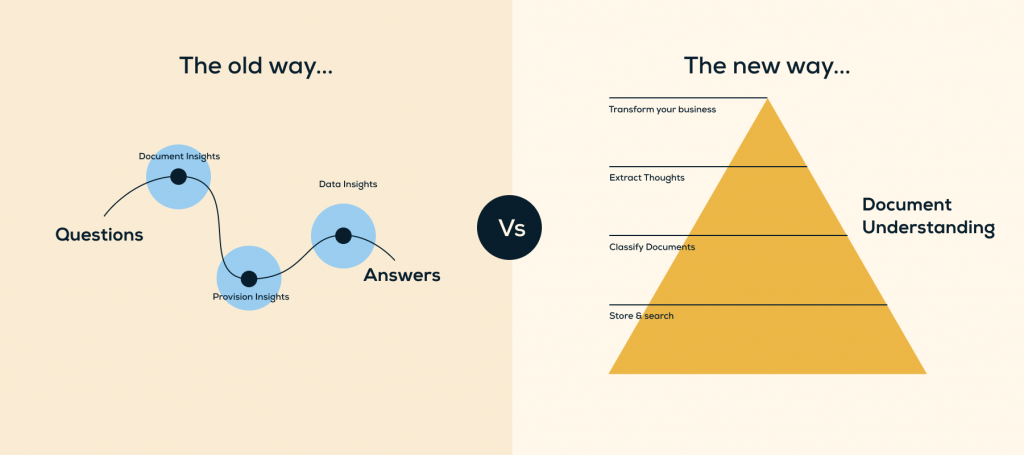 Ask Big Questions with Search
In the age of Google, we're all accustomed to finding answers for almost anything in seconds. So why can't we have the same experience for the crucial questions facing our businesses? That's why we designed Search in ThoughtTrace to be like having a conversation. Whether it's a simple lookup, linguistic comparisons, or a complex, multivariate query, you'll spend less time clicking buttons and more time transforming your business with timely answers.
Everybody Has Favorites
ThoughtTrace has earned a reputation for unlocking valuable information hidden within your documents. All that data is amazing! But, it can also be overwhelming. Often you just need to focus on a few things which is why we introduced Favorites.
Favorites allow each person on your team to pick the Thoughts or business facts they care about most and add them to an easy to use list-making document language review a piece of cake. Users can update their favorites list any time to bring what matters most to the surface immediately.
Simple & Secure Team Management
Collaboration can be difficult, and we've learned a thing or two about how complicated security can be. That's why a major focus of the redesign was to help teams work better together while ensuring ThoughtTrace remains simple yet secure. The new platform introduces Access Groups because varying user roles and levels of access shouldn't make your work environment into a tangled mess.
Just the Beginning

We're beyond excited to release the new ThoughtTrace platform, but this is just the beginning. We'll continue responding to our customers' needs and improving the way you gain access to your most hard-to-reach data. We're just getting started! Subscribe to the Blog and be on the lookout for more updates soon.

.