Goldman Sachs stated last week that the pivot to renewable energy sources will create between $1 trillion and $2 trillion in yearly infrastructure spending, green energy investing will account for 25% of all energy spending in 2021, and green technologies will benefit greatly from cheap capital and an attractive regulatory framework. We focus this post on the ongoing utilization of AI & machine learning technologies organizations leverage to carry out operations. Insights to a company's power purchase agreements are key, but understanding the impact across the value chain from PPAs, to interconnection agreements & site leases, as well as an understanding of the conceptual fact patterns, is the ideal approach. 
Significant and Costly Bottlenecks  
With significant growth comes significant challenges as companies continue to expand their asset portfolio with greenfield projects, new construction/development, acquisitions, and evaluation of existing assets. One of the most challenging aspects of any project is understanding the obligations, liability, buried opportunities, and risk contained in the contracts governing an asset. From power purchase agreements to solar and wind leases, the data inside these contracts can be unstructured, difficult to access, and even harder to structure for decision-making. When dealing with large volumes of data, antiquated processes create significant and costly bottlenecks that limit efficient operations and asset management. Many companies are left asking:  
What is the impact on the company 

CapEx

 and 

OpEx

 budgets to manage and maintain key economic provisions? 

 

Is the process static or dynamic in nature to locate obligations owed to the buyer or landowner, when those obligations are due, and any deadlines for project milestones?

 

Which milestones or timelines can result in damages or termination of the contract if unmet 

deteriorating

 the value of an asset/project?

 

Why is the downtime so long after a transaction to get the right data sets in the right format across my organization?

 

Is the information we have about our obligations and risk in a structured system where we can make decisions, pivot with asset lifecycles, and take actions quickly?

 
Transparent Access for Review, Analysis, and Intelligence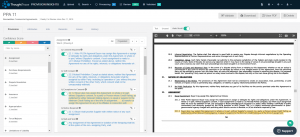 Rather than continuing arduous manual processes, harnessing the power of an AI-powered contract analytics software to answer these questions is a functional leap forward for renewable energy companies. Firms can now cost-effectively and productively mine their assets for the answers to these questions.  Today, renewable energy companies with transparent access into their agreements for contract review, analysis, and intelligence are able to quickly locate the relevant data needed to make informed decisions and move projects along faster while mitigating risk and exposure. Renewable energy firms are leveraging AI & Machine learning applications for these top operational triggers:  
Transactions: from faster consumption of VDRs to organize and kick off due diligence, to post-closing preparation of obligation tracking, firms are streamlining the transaction approach, pre and post-closing, to reduce outsourced labor cost and control quality.

 

Digital Transformation: the "system of record" varies from company to company, firms are leveraging AI to extract actionable insights that can be shared across an organization's BI, Land, Accounting/Finance, Document Management, and GIS platforms. Next-generation reporting is being realized.

 

Asset Management: making more informed decisions with continuous visibility into long-term land usage agreements, PPAs, Interconnection Agreements, Operations & Maintenance Contracts, Site Leases, and Commercial Contracts throughout the value chain.

 

Legal Assessments: accelerating how review of legal items and fire drills

 can be streamlined across thousands of 

agreements.

 
With such significant growth on the horizon, renewable energy companies are replacing manual review processes for the traditional past and are introducing innovation to power insights for smart and sustainable growth. The appetite for innovation is allowing firms to ask the most specific questions with hard to find answers, break down information silos to gain transparency, and be future-ready with agile, data-driven decision-making. 

Ready to learn more about AI-powered contract intelligence for renewable energy? REQUEST A DEMO of ThoughtTrace software today! 

.