The coronavirus (COVID-19) pandemic is confronting every industry in the world with unparalleled challenges. The uncertainty surrounding the high-velocity disruption and volatile economic markets from COVID-19 has left many businesses on their heels scrambling to adapt short term plans and rethink long-term forecasts.
Business Agility is the Greatest Competitive Advantage
Organizations who act swiftly and confidently can realign resources for sustained growth, and even turn disruption into opportunity. Business agility allows leaders to make short term moves to regain stability in these unprecedented market conditions. It is agility that builds resilience by quickly identifying opportunities to optimize operations, reduce costs, and increase speed.
Artificial Intelligence has already proven to be crucial in mitigating the fallout from the pandemic. It enables companies to 'do more with less,' maximize efficiencies, and identify liquidity & profitability protection measures. AI-powered operations that saw increased adoption through the pandemic will drive continued business agility through the recovery period to follow.
Embracing AI in a Post-COVID World

In Part Three of their Trends in IoT Series, McRock Capital and Cisco Investments recently published research on "Embracing AI in a Post-COVID World." As noted, "AI-based technologies had become quite pervasive prior to the COVID-19 pandemic; the disruption caused by such event, however, has further expedited the adoption of AI in the workplace."
ThoughtTrace was highlighted in the research as a prime example of an AI-powered technology with proven value in augmenting human capabilities to improve productivity and optimize workflows. Machine learning algorithms identify trends and insights in vast reams of data, enabling accelerated contract understanding and faster decision-making.
Contracts are your compass in uncertain terrain
By delivering rich, contextual insights from contracts and documents, customers gain an enhanced view of their repositories, bringing to light obligations, risks, and bottom-line savings opportunities that were previously unfounded or overlooked. By uncovering trapped information using a powerful AI-powered tool, humans reveal new value and innovative ways of thinking about their business especially in volatile conditions. The ability to quickly ask and answer questions of the documents that govern your tactics and strategy ultimately help guide how the company will make the most of resources, time, and assets moving forward. With AI-powered Contract Intelligence, your brass compass is transformed into a duel-frequency GPS, and unforeseen roadblocks can be maneuvered effectively.
Contract Intelligence Enabling Agility and Enterprise Intelligence
When the COVID-19 storm hit, teams who could conduct accelerated, AI-powered contract review were able to drill down to force majeure provisions and other governing clauses with ease. This ability improves capacity to answer unforeseen questions in seconds rather than weeks/months/years. Enterprise Intelligence is not limited by the inability to anticipate every issue, nor does it require vast manual effort to achieve. However, it is limited by rigid and static data, manual abstraction that leaves holes due to changing circumstances, and process inconsistencies.
By broadening the universe of answerable questions, companies create new strategic value. COVID-19 taught us that flexibility and confident, agile responses are not strictly competitive advantages – they are our greatest competitive advantage.
Learn More About Contract Intelligence in 3 Business Scenarios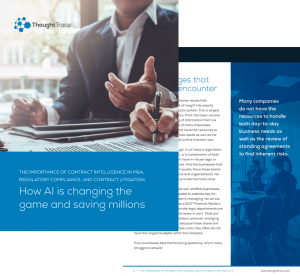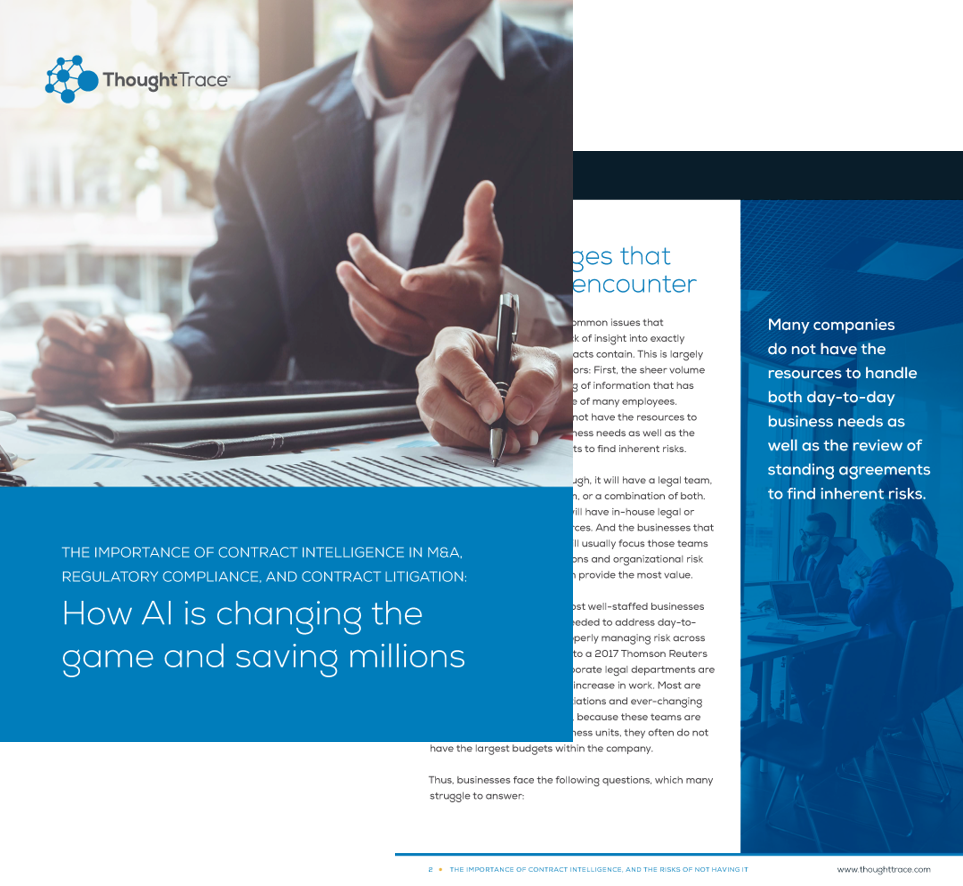 About McRock Capital:
McRock is the first dedicated Industrial Internet of Things (IIoT) venture capital fund manager focused on the intersection of sensors and software in large industrial markets and smart cities. The McRock team has a unique background of building high-growth venture-backed IIoT companies while also having worked in the power, water, oil and gas industries. McRock is backed by several leading institutional investors and global corporations including Cisco Systems, Caterpillar, Shell, Mitsubishi and Électricité de France (EDF).
Visit  https://www.mcrockcapital.com/ and follow on Twitter @McRockCapital
About ThoughtTrace:
ThoughtTrace creates the only industry-specific Document Intelligence and Contract Analytics platform that delivers value on day one with minimal training and setup. Leveraging AI/ML as a complement to human expertise, the ThoughtTrace platform identifies critical obligations in contracts exponentially faster and with greater accuracy than traditional methods. The ThoughtTrace platform reads, organizes, and surfaces data that gives users operational agility, actionable insights, and decision-making superpowers.

.