More powerful digital transformation efforts have recently exposed the limitations of traditional document management & contract analytics. Without digital transformation, companies are struggling with a host of issues from collaboration and integration to data security, innovation, and sustained competitive advantage. Companies need a better way to manage documents, reduce risk, and find necessary information in real-time. This document digital transformation roadmap was developed to help businesses achieve real improvement in document digital transformation by identifying challenges, barriers to change, and a path forward based on their current stage.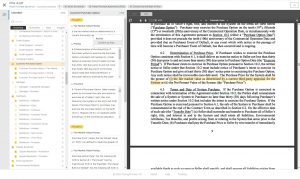 Current State
This is not a problem companies can ignore. In the 'Age of Technology Breakthrough,' expectations of consumers, users, and stakeholders have evolved. Businesses are now judged based on their multi-channel communication, online presence, and radically improved response times.
With varying degrees of success, companies are rolling up their sleeves to tackle digitization projects in an effort to improve operational efficiency and drive growth initiatives, but only 20% of respondents rate their company's digital transformation efforts as effective. Is this because they don't understand the effect it was intended to have?
Technology is at the foundation of all business process improvement today, but that does not mean that Digital Transformation is occurring everywhere. These definitions highlight the differences between digitization, digitalization, and digital transformation.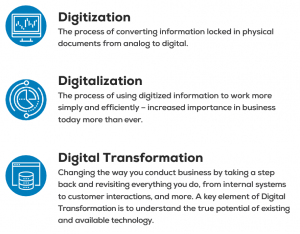 Document Digital Transformation Hesitation
Our ability to turn contracts into bits and bytes has been around for decades. In fact, digital storage was even more cost-effective than paper storage in 1996! While the ability to store documents digitally is not an issue, access to that valuable data still is. Putting a paper scan or digital file in a folder is no better than putting a file in a box in the closet.
Failed attempts to capitalize on the effectiveness of Digital Transformation for documents has led to delusion, confusion, and opposition to change. To  understand more, we polled the ThoughtTrace and World Commerce & Contracting webinar audience for insight on their digital transformation hesitation and found that the 3 pillars of inertia are:
Lack of clarity in project scope
Project cost
The overwhelming variety of options for document & content management


What's Holding You Back?
Scope
Each company has a unique document and data ecosystem; no two situations are the same. Most have a history of siloed attempts to digitize documentation which creates a spiderweb of truth sources and data alignment nightmares. Physical files will have to be collected, reconciled from every dark office, prepared for indexing, scanning, and storage. The scope is huge, we know. Therefore, companies have to understand where to focus their efforts and leverage AI and data clustering technologies to accomplish more with less.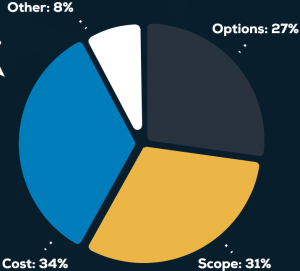 Option Saturation
So many choices and the stakes are high… how do we systematically and intelligently rationalize the available options? Technology solutions for document storage, document data management, and document understanding are vast, varied, and specialized. Technology shopping cannot be done in a vacuum. It's highly recommended to go through a live Proof-of-Concept with your vendors, ensuring that the technology works with YOUR documents and does the job it claims to do.
Cost
Technology can be extremely expensive – both as an initial investment and to maintain over time. Although the software is not the only cost to consider for document digital transformation, most stalled attempts are called off after initial implementation when executives have the chance to evaluate the amount of resources and return generated to date. In the IDC Worldwide Digital Transformation Guide, experts estimated that worldwide spending on technologies and those services enabling digital transformation would reach $1.97 trillion in 2022. The key is to find solutions that work out-of-the-box and don't require additional internal resources to make them effective. The ROI is much greater and achieved faster with an out-of-the-box solution versus a toolkit that still requires human capital to realize a return.
Part 2 will continue with:
Time to Value: Diagnosing the Effectiveness Gap
Investment in Change: How to Start the Conversation
Part 3 will finish with:
Levers to Digital Transformation
4 Phases of Document Digital Transformation
A Case Study: Transformative Document Understanding
Or, complete the form to download the full whitepaper today!





.