Solutions for a Challenging & Complex Industry Environment
The industry has grown accustomed to the new normal: restrictive capital markets, profit margins under scrutiny, and new business structures that require effective leadership, processes, and digital ecosystems. The vast majority of upstream and midstream groups have undergone change management. Although resources have been vehemently restricted, the volume of work has grown exponentially for the teams left standing with pressure to manage the bottom line. The most pressure is on those with regular changes to their data sets and inputs — those with documents, files, agreements, and contract analytics that change daily. Insurmountable volumes of siloed, static, and often search-less documents plague the arteries of these companies and create inexcusably inefficient duplication and wasted resources.
Today's leaders are guiding their teams to a digital-first future by tackling these challenges with advanced technologies to drive ROI and supplement their workforce. Merely creating and collecting data is not enough to sustain the competitive advantages necessary to survive in this climate. To corral documents and agreements that govern oil and gas operations, many companies have evolved from using the filing cabinets of yesteryear to the digital filing cabinets of today. Moving from paper to computer files is a step in the right direction, but it does not solve the compounding problem that people just don't know what is in their documents, let alone how to gain significant value from them… ThoughtTrace changes this – giving in-house teams the ability to manage their assets with 100% confidence.
Today, companies are getting ahead by leveraging ThoughtTrace – an AI-powered Document Understanding & Contract Analytics platform that instantly turns documents and agreements into value, questions into answers, and uncertainty into understanding. With a few mouse clicks, ThoughtTrace users can surface facts and answers to vital business questions, reducing weeks or months of work down to minutes and hours.
USE CASES:
Innovation Through Document Understanding
CHALLENGE: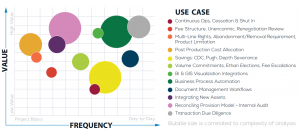 A ThoughtTrace customer had ~20 million documents to manage, and a list of shortcomings to overcome from a slow and outdated document management system. Issues included:
Productivity Challenges-Searching & Finding- countless hours wasted identifying the appropriate files
Manual Review-very little context captured and data living in disparate systems required extensive outsourced expenses
Integration-lacking application connections across the organization required manual work to conceptualize data sets and contract analytics
Reactive in nature-acreage trades, acquisitions, and key drilling programs were delayed due to lacking full information to address concerns and questions
Further, the datasets generated from answering those questions were static and unavailable to be blended to other parts of their organization.
SOLUTION:
21st Century Document Management
Contract Analytics-provision Capture in Full
Intelligent Search
Integrations:
1. BI & GIS Integrations
2. Data Warehouse Synchronization & Process Automation
ThoughtTrace cloud-based storage instantly provided enterprise access to all the customer's files and associated metadata. For the first time, the team was able to quickly search by document type, asset, county, well, and system—while also seeing the relationships across the different files. The impact of understanding how a tract was tied to a lease, well, unit, and associated material contracts allowed them to incorporate new challenges and assertions into the company's development and maintenance plans. The ThoughtTrace platform's flexible integration capabilities allowed the customer to embed valuable data from the documents that govern their operations into their digital ecosystem. They integrated ThoughtTrace data with their data warehouse, GIS, BI, Accounting, and Land databases.
Transactions
CHALLENGE:
Asset transactions are notorious for confidentiality, tight timelines, and limited resources. Too many contracts with too many clauses will back every buyer into the same corner: sacrificing accuracy for speed-of-completion, they are forced to prioritize and review only a subset of the records. Cutting corners in breadth is compounded by cutting corners in depth. Due diligence customarily focuses only on the task at hand, change of control, and financial futures, when the real risk and ROI factors are locked in the contracts.
SOLUTION:
Due Diligence-cut cost and expenses by 1/3
Onboarding new assets-don't wait 3-6 months to integrate the asset
Economic provisions-quickly extract material provisions to assert defects and protect your AOV

Change of Control Obligations and Requirements
Payment Terms
Term Expiration and Extension Option
Mineral, Surface, and Royalty Due Diligence
Reconciling Provision Model
ThoughtTrace facilitated the transactions of over $37 billion in upstream and midstream assets last year. Users reduced review, onboarding, and integration time from months to days. By accelerating ingestion of data/files for virtual data rooms and leaving contract deficiencies with no place to hide, acquisitions, divestitures, mergers, and acreage trades are assessed in hours. With the considerable time savings, the assets are comprehensively vetted, and the structured data outputs are readily available via ThoughtTrace Connect and robust REST API (Application Program Interface). This is revolutionary in comparison to the handfuls of random spreadsheets that plague most transactions. ThoughtTrace users share structured data, ripe for automation and integration, among their other land, accounting, GIS, BI, and document warehouses within days of closing.
Asset and Risk Management
CHALLENGE:
Each individual upstream and midstream agreement can host 250-350 provisions crafted by legal experts from all corners of the country. Variety and complexity are multiplied by the number of assets under management, and teams big or small will quickly find themselves swimming in an ocean of unstructured data. As organizations run leaner and adoption of a digital-first future grows, the development of a flexible platform to manage assets is more critical than ever. Traditional document management or land systems are not enough when complex terms and relationships among assets and their contracts are grossly oversimplified and siloed.
SOLUTION:
Production Maintenance: Continuous Ops, Cessation & Shut In
Savings Clause Review: CDC, Pugh, Depth Severance
Post-Production Cost Allocation: Royalty, Deductions, and Cost Free
Uneconomic Situations: Fee Structure, Renegotiation Review
Midstream Marketing: Volume Commitments, Ethan Elections, Fee Escalations
Ownership Repository: Deeds & Conveyance
ThoughtTrace customers leverage AI built for oil and gas agreements to keep up with the changing times, terms, technology, and regulations. Fluid access to the most complex data, coupled with intelligent search technology, provides the tools they need for data-driven decision-making. Whether it is cessation of production, managing fee escalations, or building out an ownership repository to track changes, document understanding is the cornerstone of their digital-first future.
Learn More:

.