Solutions for Operational Complexities in the Commercial Real Estate Industry
Heavily dependent on economic health and growth, the Commercial Real Estate landscape has radically shifted in recent months. Revenue forecasts for brick and mortar retailers have plummeted, and retail bankruptcies are at a level not seen since the 2007 recession. Office-using occupiers have yet to return en masse as more and more companies embrace a remote work strategy causing office vacancies to soar. And although global deal volume declined by 36% year over year, healthcare and industrial real estate are thriving. Big-box logistics and distribution companies along with e-tailers are proving to be the beneficiaries of changing consumer demands, and they are growing at a previously unseen pace.
Investors and property management firms are focused on landing or retaining their remaining sound tenants, and concessions are spiking as assets compete to stabilize occupancy. Occupiers are reeling as they try to correct course and right-size their operations. And while the current environment has accelerated these trends, they have been in the works for years. Retail footprints have been contracting for years. Office users have been focused on collaboration, interaction, and embracing technological advances including remote work and shared office solutions. Industrial and logistic users have adapted due to e-commerce growth and their market fundamentals remain strong.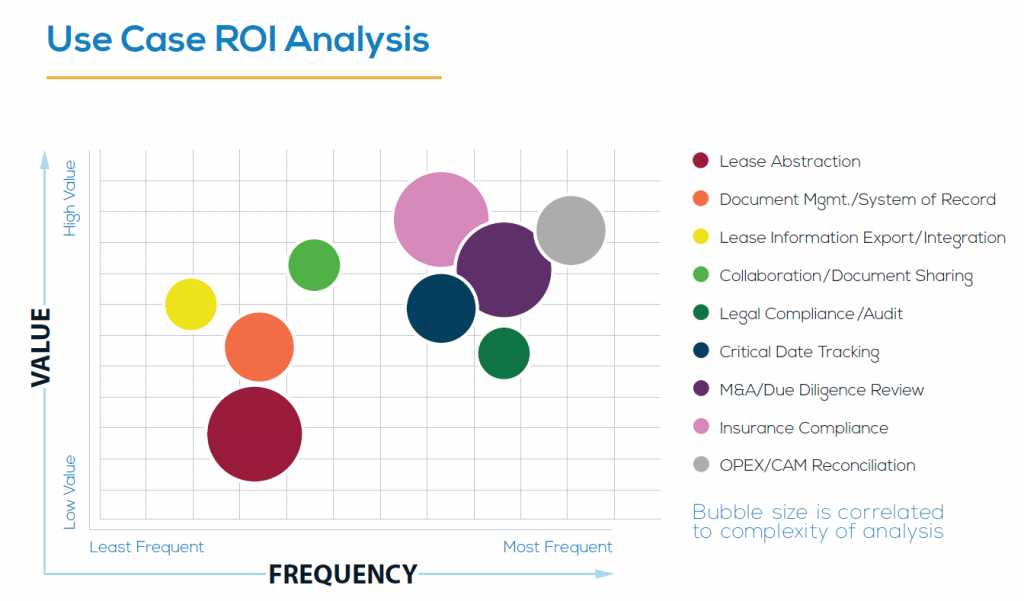 It is estimated that the size of the U.S. Commercial Real Estate Market exceeds 70 billion square feet and $17 trillion in value. And with recovery on the horizon, the industry must be prepared to adapt to the new digital economy and changes in supply-and-demand metrics. There has never been a time in which the need to investigate and understand the specific terms contained in your lease contracts has been so critical. Parties need to be able to access and fully understand the obligations and exposure created by their agreements.
As a result of shifting market fundamentals, commercial real estate investors and occupiers are experiencing:
Increased use of data analytics to facilitate investment decisions
Increased legal and compliance needs
Increased demand for operating efficiencies
To keep pace with industry changes, trailblazing leaders are turning to advanced technologies to streamline their operations and improve their bottom line. The ThoughtTrace Document Understanding platform powered by artificial intelligence and machine learning instantly turns documents into value, questions into answers, and uncertainty into understanding. Teams can review their documents, in detail, and get answers in seconds. Gone are the days of fully manual lease reviews that were prone to human errors and omissions. Key lease data can now be identified, extracted, and reviewed faster and more accurately than ever imagined. Risk and opportunities buried deep in a document can be instantaneously surfaced to radically increase the speed and decrease the costs of due diligence reviews, lease audits, and day-to-day lease administration. Adopters of this disruptive technology have found a true competitive advantage in the evolving Commercial Real Estate Industry.
Lease Abstracts
Challenge: Whether you are an owner or occupier, an investor or asset manager, legal counsel or broker, all parties involved in the Commercial Real Estate Industry need to be able to quickly review and summarize specific, key information from lengthy, complex lease documents and then make that data available for users to monitor, review, and easily update. Documents are often stored in multiple, siloed locations and have inaccurate or incomplete assessments. Traditional lease abstracts are static in nature and often create data disparities between the actual documents, or source of truth, and the system of record – especially once a lease is amended or renewed.
Solution: "The Living Lease." The ThoughtTrace real estate document management Understanding Platform automatically reads, interprets, and extracts hundreds of critical clauses and data elements from your commercial real estate agreements – going far beyond the basic lease terms often found in traditional lease abstracts. With data disparities dissolved, static lease abstracts become a thing of the past. Your leases now live in an industry-specific solution, trained by commercial real estate experts and legal counsel, so that you can gain critical insights from your documents in real-time.
Real Estate Transactions
Challenge: Financial modeling and lease analysis are major components of Mergers & Acquisitions and the affiliated the Due Diligence process. This process is built on a foundation of contract data usually provided through a virtual data room (VDR). The business terms, obligations, and options are buried in documents that have historically been difficult and painfully slow to extract. Investors must analyze the obligations and forecast the risk of each agreement involved in a transaction. They expect superior data quality and analysis from their contract analytics tools and then need a platform to expedite the post-closing data migration process.
Solution: The ThoughtTrace Document Understanding Platform expedites the review of Due Diligence material and supercharges the underwriting process by leveraging AI technology to improve data collection and reconciliation for more comprehensive, accurate, and efficient results in a fraction of the time, while reducing risk and spend on outsourced staff. The timing of both pre-divestiture and post-closing document migration is supercharged.
Legal Compliance/Audit
Challenge: The Commercial Real Estate Industry is constantly faced with the need to ensure regulatory compliance with accounting and finance standards including ASC 842 and IFRS 16. Obligation management extends beyond traditional reminders and asset management often has a duty to gather, maintain, and prepare certain types of records and reports for audit. While the demand for such compliance is great, the delivery of accurate information can be tedious and costly.
Solution: ThoughtTrace allows clients to quickly create a comprehensive collection of lease obligations to confirm lease terms and help determine how the asset should be treated on the balance sheet. ThoughtTrace never separates the Source of Truth from the data set. Ace your regulatory audits with immediate access to the information housed in your documents.
Additional Sample Use Cases:
Critical Date Tracking
Lease Information Export/Integration
Collaboration and Document Sharing
Learn More:
Complete this form to download the full brochure: 



.