Clean energy investment, including renewables capacity financing and corporate-level equity deals, totaled $137 billion in the first half of 2020 – up 4% over the first half of 2019. By 2025, renewable power generation is expected to overtake coal as the primary means of producing electricity, and by 2030, expected to meet 80% of global electricity demand growth with renewables providing nearly 40% of global electricity supply. Additionally, the U.S. Energy Information Administration projects that renewables will collectively increase to 49% of global electricity generation by 2050, with the solar share of generation growing the fastest. The reality of these expectations is supported by the milestones that were met in February 2020 when wind surpassed hydro as the most-used renewable energy source in the US, and in May 2020 when renewable energy use surpassed coal for the first time in 130 years.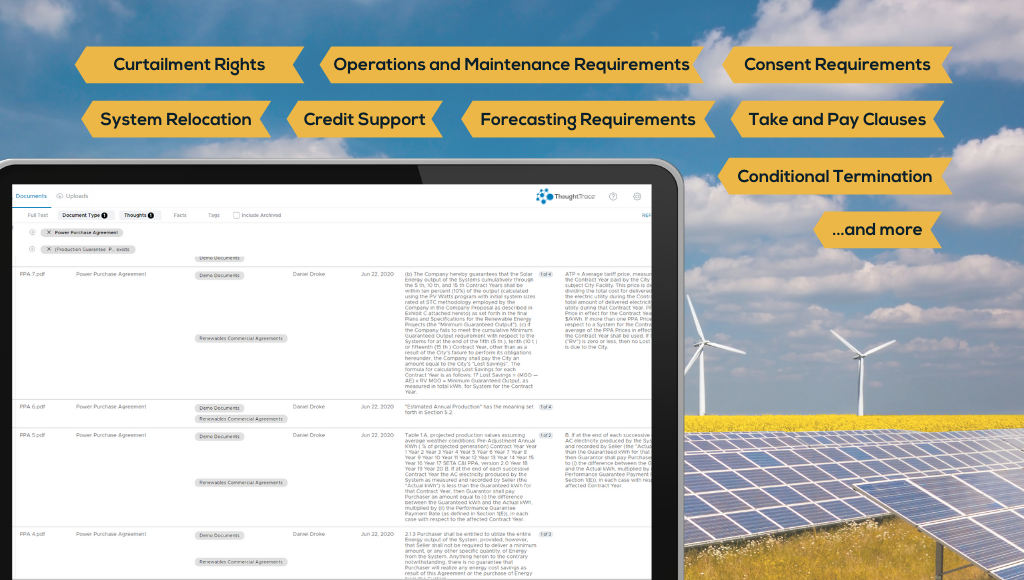 As a result of the huge investments in solar and wind, projects in development and operation are creating:
MORE transaction-driven M&A activity,
MORE legal and compliance needs, and
MORE demand for better asset management tools.
To keep pace with industry growth, trailblazing leaders are turning to advanced technologies that help drive ROI and increase operating efficiency. Rather than risk and opportunities buried in siloed systems of valuable information, the ThoughtTrace Document Understanding platform powered by artificial intelligence instantly turns documents into value, questions into answers, and uncertainty into understanding. Teams who can get answers from their documents in seconds are empowered to greatly enhance productivity and revolutionize day-to-day renewable energy operations, asset management, and transactions.
Sample Use Cases: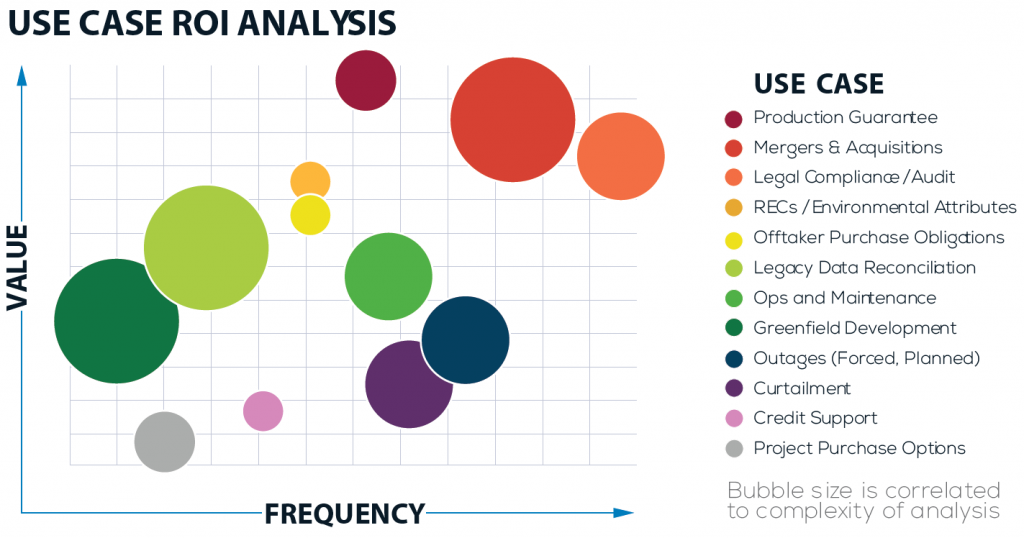 Outages & Curtailment
Challenge: Energy production cessation occurs in the Renewable space for many reasons, which concern all parties involved. Clauses outlining the rights and procedures related to reductions and outages of energy production can be found intertwined in the Outages and Curtailments provisions in a PPA. Planned outage terms must be aligned with maintenance and operation schedules, as well as notification obligations outlined for reporting between the parties. Many provisions restrict outages to certain times and/or months of the year. On the flip side, owner/operators will also want to know how much energy the offtaker has the right to curtail or reject (and whether such curtailment is reimbursable), as that affects the value of the PPA and operations planning. Critical details are buried within the terms of hundred-page contracts pertaining to restrictions, notifications, and guaranteed compensation between the parties.
Solution: Traditional legal fire drills are replaced with efficient queries and succinct analysis to enable data-driven decisions; a far cry from the days of leafing through folders or digging for a lone PDF in a maze of folders on your least favorite shared drive. ThoughtTrace is trained to identify outage and curtailment provisions and highlights clauses such as notice requirements, curtailment compensation, restrictions on the scheduling of planned outages, and other terms that allow users to instantly hone in on the outage and curtailment terms that matter for effective asset management.
Production Guarantees
Challenge: Production guarantees contained in power purchase (PPAs) and operations & maintenance (O&M) agreements are some of the most important compliance obligations to track due to the potential for costly liquidated damages and other penalties in the event of an output shortfall. Production guarantees must be managed for every asset and purchaser at the unique frequency and volume specified in the applicable PPA. Efficient and accurate management of these obligations is important in development planning, asset management, and acquisition due diligence.
Solution: Instead of sifting through thousands of pages and tens of thousands of data points, ThoughtTrace users locate critical documents and contracts, pinpoint their production guarantees, and instantly surface-related requirements and potential penalties immediately after loading their documents. Maintaining your source of truth for business and legal terms doesn't have to be done in technology silos – the data, documents, and their relationships are all in place. By expediting the time-to-value with Document Understanding on day one, asset management becomes proactive in achieving goals, mitigating risk, and avoiding costly oversight.
Renewable Energy Certificates
Challenge: Fueled by an increase in corporate social responsibility standards and the availability of physical and virtual power purchase agreements, the value of PPAs include the production and ownership of Renewable Energy Credits (RECs) and other types of environmental attributes and tax benefits. At over a hundred pages long, each PPA contains highly specialized terms combined in an infinite number of possibilities; assuming such terms are impossible. Traditional document management fails to provide a solution for the volume, context, and nuanced metadata management.
Solution: After automatic extraction of contract terms, metadata, and relationships using the ThoughtTrace platform, ROI is quickly realized during stakeholder reporting for scheduled and ad hoc ESG commitments. As corporate goals are aimed at reducing the carbon footprint, ThoughtTrace gives companies the ability to easily report on REC asset attribution and valuations without burning more energy to locate, evaluate, create, and compile these critical data points with confidence.
Additional Use Cases:
Renewable Energy M&A
Legal Compliance / Audit
RECs / Environmental Attributes
Offtaker Purchase Obligations
Legacy Data Reconciliation
Ops and Maintenance
Greenfield Development
Credit Support
Project Purchase Options
Learn More:
The renewables industry is known for its innovative heritage allowing for digitalization across every aspect of its life cycle. AI-powered Document Understanding built for renewable energy can unlock hidden value, and as demonstrated here, can be applied in a variety of ways to address challenges, take advantage of expanding opportunities, and expand human potential.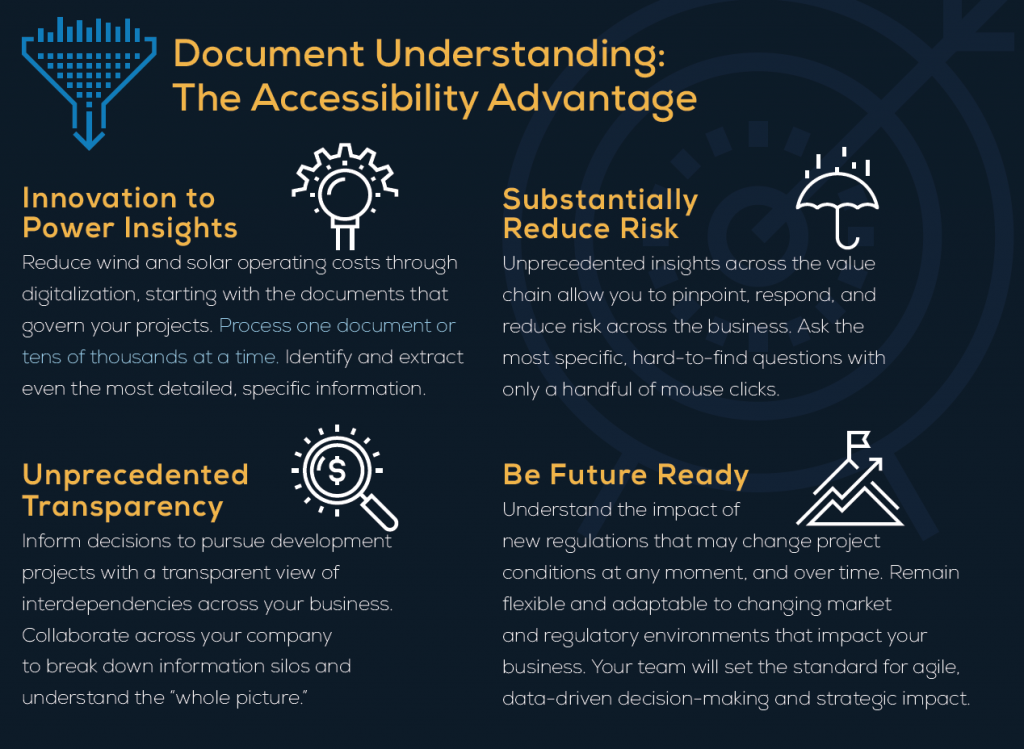 .