HOUSTON (November 7, 2019) – ThoughtTrace is proud to announce their recognition as a global finalist for the Innovation and Excellence Award as an Outstanding Service Provider at the IACCM (International Association for Contract & Commercial Management) Americas Conference in Phoenix, Arizona on November 6, 2019.
ThoughtTrace CTO, Joel Hron, was present at IACCM Americas Conference to receive the award, and later told the entire ThoughtTrace team,
"Congratulations everyone!  Being a finalist for this award is a huge honor and a testament to all the hard work, collaboration, and commitment to excellence that each of you bring every day. Our commitment to innovation and customer success above all else is not only evident to our customers, but also to IACCM – a global leader in contract and commercial management. Great job!"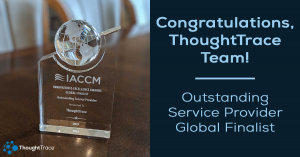 The IACCM Innovation Awards program recognizes leaders in the community who are raising the profile of contract and commercial capability within their organizations. The Best Service Provider award specifically honors outstanding consultants, service, or application providers who have led or enabled high-value initiatives at client organizations. ThoughtTrace has certainly raised the bar of contract and commercial capability with its domain-specific, turnkey contract analytics application and commitment to customer success. ThoughtTrace software uses artificial intelligence and machine learning to intelligently extract necessary provisions from contracts and other documents without the need for AI training.  This allows users to conduct data extraction and analysis 52x faster and bring unfounded insights to the surface. Being recognized for excellence as an application provider by IACCM, the global leader of contract and commercial management professionals, is a great honor.
To learn more about how ThoughtTrace provides value to contract professionals, watch this quick video or the latest IACCM webinar: Achieving Contract Intelligence with Transformative Search. Then Request a Demo to see how ThoughtTrace works for you, today!
About ThoughtTrace
In 2017, ThoughtTrace launched the first industry-specific Document Intelligence and Contract Analytics platform that provides value on day one with minimal training and setup. Leveraging AI/ML as a complement to human expertise, the ThoughtTrace platform identifies critical obligations in contracts exponentially faster and with greater accuracy than traditional methods. ThoughtTrace reads, organizes, and surfaces data that gives users operational agility, actionable insights, and decision-making superpowers.

.