Businesses across all industries implement contracting into their daily workflows for one reason or another. Whether they're the ones signing contracts for various services or they're the ones providing the service/contract – it's become a stand part of every business. Despite it being a regular practice, it's not always done correctly or efficiently. Studies show that contracting firms alone lose between 5% and 40% of the value on a given deal due to inefficient contracts. The good news? Things are changing thanks to machine learning and AI contract review software.
What is Machine Learning?

Machine learning is a type of artificial intelligence. It's most often seen in the research industry because it has proven extremely useful in parsing large amounts of information for analysis. However, that's not the only application that it can be used for.
Machine learning and the parsing of information can be utilized across industries. It can even be put to good use when paired with the right document management tool because it results in software that allows for the automated collection and review of information contained in these agreements.
One example of this is AI contract review software, which utilizes artificial intelligence and machine learning to make the collection, review, and UNDERSTANDING of contracts simple and easy.
What Exactly is AI Contract Review Software?
AI contract review software is an excellent example of a type of machine learning that allows you to review mass amounts of contracts in minutes, instead of days or months, to streamline your daily workflows and save enormous amounts of time. . Firms from essentially every industry can utilize this software to organize contracts for easy access and search for them later (and find them in 2-3 clicks – no searching through folders!), and even analyze them for issues that may need addressing.
This software allows you to upload and store all of your contracts, optimize them for easy searching, and quickly extract important information and data points. This process used to take quite some time. Thanks to machine learning and AI, it now takes mere moments.
One example of an AI contract review software is ThoughtTrace, a document understanding software that intelligently reads & categorizes your contracts & related documents, and allows you to search, find, share, and review all of your contracts with ease. What used to take months and a tremendous amount of manpower can be revealed in moments.
Machine Learning and Document Understanding Has Changed Contracts in These 3 Ways

Technology can be a scary thing. Although, once you take the time to sit down and really learn all it has to offer, you may be surprised at just how simple it can make your daily workflows. For instance, here are three amazing ways that machine learning and document understanding technology has forever changed contracts: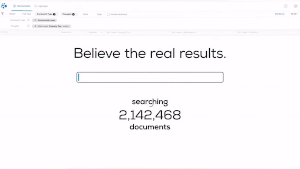 1. Makes Documents Searchable
Arguably one of the most beneficial changes is that machine learning and AI contract review software has made your contracts searchable. With integrated contract analytics and new-age document management capabilities, not only can you store all of your documents, but you can make them searchable as well.
An enormous amount of value potential exists in the software's ability to read for INTENT of the language, as well as identify relationships.
This is great when you need a contract on the fly because you don't have to rifle through endless file folders to find the information you need when you need it the most.
2. Makes Documents Quick and Easy to Analyze
Machine learning has allowed technology to advance to a point where tools such as AI contract review software and document understanding allow you to quickly analyze either a single document or multiple documents in a short time frame.
This is especially important for contract management because it allows you to pull data and relevant information from your stored documents and utilize it whenever necessary. So, whether you are looking for changes or trends in certain contracts or organizing contracts in a certain way, this technology can help you get it done quickly and easily.
3. Allows Contract Flaws and Contract Risk to Stand Out
With document understanding, as you analyze your contracts, you can also easily spot any flaws that may not have stood out to you prior and easily alter document information and send to a colleague or manager for review and confirmation
Not only that, but it may also help you notice negative trends and or possible gaps in coverage or value, allowing you to address the issue in a timely manner. The AI brings unparalleled access and transparency to documents that contain costly risks.
Make Your Contracts More Efficient with AI Contract Review Software
AI contract review software utilizes the power of machine learning to help your business discover critical contract and document data in seconds. This can supercharge productivity, and save money and risk for any sized organization.

You no longer have to worry about searching for a document, missing an obligation or opportunity, or stress yourself out by spending weeks (or months…) reading through every document to find the answer you're looking for.

With the right document understanding tools at your disposal, you can make document management and analysis a breeze.

.