Leader. Counselor in Chief. Business Strategist.
Your company is relying on you to provide timely & sound guidance. These common time wasters can be avoided so you can get back to protecting the interests of the business.
Spending too much time on tasks that do not require legal expertise:
When in-house lawyers have more time to focus on legal problems and not administrative problems, performance improves as high-impact work is done with more thought and attention, and less need for outside counsel.
Searching for documents:
Navigating the challenges of high-volume document storage and dealing with important documents getting misplaced is not just about having an optimal document management system – it's about hoping the consequences are limited to lost time, not opportunities that translate into value…
Manual clause and provision search:
Manual contract review introduces bottlenecks into the organization. Not only does it take a ridiculous amount of time to search through mountains of documents to find specific clauses & summarized provisions, but pertinent information falls through the cracks. Manual contract review costs immense time, productivity, & profits.
These challenges are common to in-house legal departments, but there are ways to boost efficiency and minimize their impact while saving your organization money in the process. By optimizing your approach to certain routine tasks, you can free up time and resources to focus on the important problems that you were hired to solve. Your time is precious – act accordingly.
In the spirit of protecting time, here is a 45-second example showing how AI-powered Document Management & Contract Review can help corporate counsel solve these challenges:
Ready to get your hands on this power?
Try the ThoughtTrace Document Intelligence platform for free in a sand-box environment or with your own agreements.
Related Reading:
Download the whitepaper: How AI is Changing the Game and Saving Millions.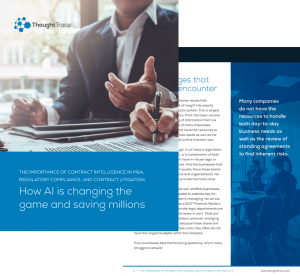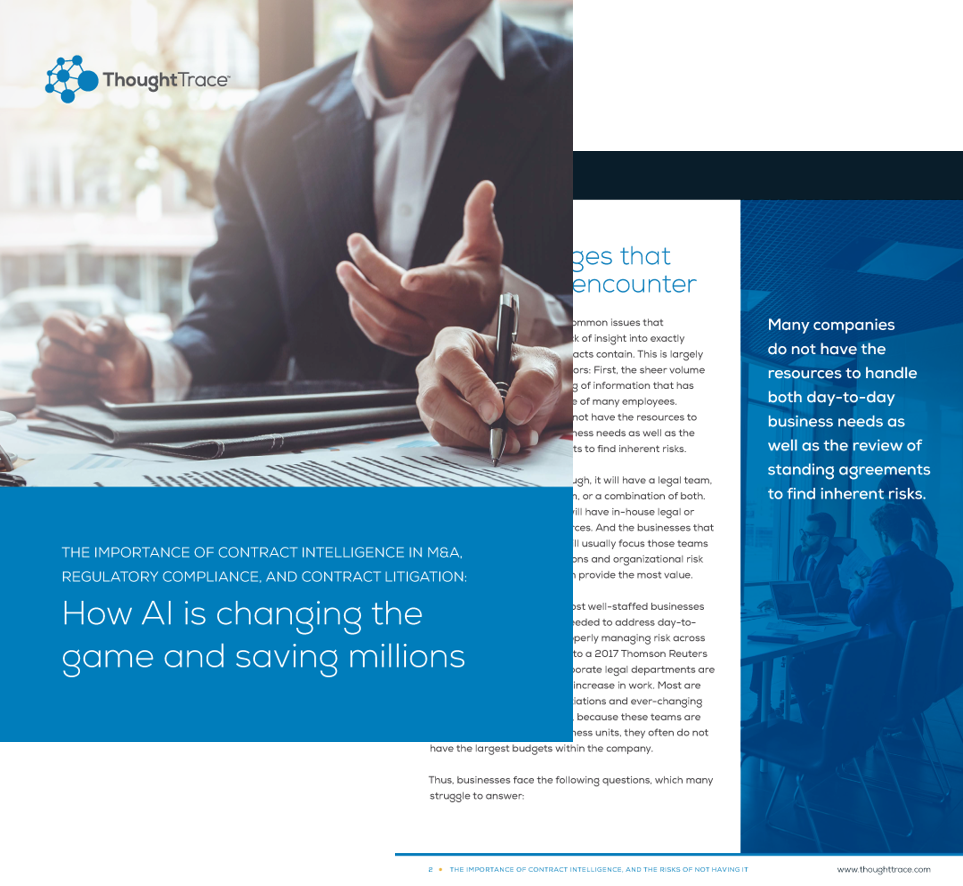 This whitepaper covers the importance of Contract Intelligence in M&A, Regulatory Compliance, and Contract Litigation. Learn about Digital Transformation in the contract library by asking important questions like:
Are high-risk contract terms making it to execution?
How does an already busy team tackle outdated contract templates or previous poorly negotiated contract terms?
How can the team stay in front of expired contracts?
Are contract amendments properly aligning with the relevant contract language? And more.
.