Part Two: The Right Tool for the Job
For many of us, one of the big moments in middle school science class was learning to use a microscope. The teacher pulled all of the terrifyingly complicated looking microscopes out of a locked cabinet and give everyone a box of glass slides to begin tuning in your microscopes. By the end of the lesson, students had up-close views of cells and microorganisms. That basic microscope was the perfect tool for giving you and your classmates a first look into a new and tiny world.
Best Practices for the Clearest Picture
Just like that microscope, ThoughtTrace is a tool that can be leveraged to give you a closer look, not at little stuff, but the big picture of language in your documents. Also just like that microscope, there are best practices that help you get clear results for your project. Like we discussed in the last installment, ThoughtTrace – A Modern Solution Part 1, implementing ThoughtTrace fully involves changing your approach on these big language review projects. Instead of looking document to document, we start looking for patterns in the language surfaced by ThoughtTrace. In this installment, we take a closer look at how ThoughtTrace is the right tool for this job and the way to tune your workflows to get the clearest picture fast.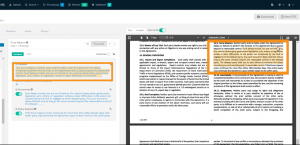 Approaching Complex Jobs with The Right Tools
The large scale document analysis that your company is performing is a big job that we oftentimes still approach with our middle school microscopes. Implementing ThoughtTrace for maximum efficiency is like switching to an electron microscope. We are suddenly using the right tool and the results are crystal clear. Take for example a situation where you suddenly need to know every Force Majeure provision across your entire data set to know how and when you can enact that language. Most likely you need an answer yesterday. In this case, the most common answer is to either take a guess or assemble a team of employees or brokers to dig into individual documents and populate a spreadsheet. This is going to take a while. That answer you needed yesterday, won't arrive for a month at best and it is going to be more than "a little expensive."
From Months to Minutes
Let's look at this same scenario, except this time using the right tools. Your manager walks into your office asking for all of your force majeure language and a guide for when and how we can take action. You, the ThoughtTrace Champion, do a quick document search across the relevant documents for the right provision, and hit export. You just did months of work in a few minutes! Now you dig into the data that surfaced and find patterns in the language noting where you can make specific business decisions. While the team not powered by ThoughtTrace is just starting to divvy up PDF files to review, you are passing recommendations and immediate action steps to decision-makers.
To see this process live in action and hear great information on adding and leveraging metadata within your documents, watch the recording of Realize Remote Session 3: Mastering Metadata: Transactions, Production Interruption, & Litigation Coverage. In Realize Session 3, we demonstrated how to use ThoughtTrace to search your documents for similar language through context and relationships.
Who: Beginner to Advanced ThoughtTrace Users
When: Click to watch the recording at your convenience
Where: Your remote workspace
What: Join Customer Success Manager, Wil McFarland to learn how tags and attributes can help you quickly review and confirm provisions en masse to tackle fire-drill efforts. This session will include specific examples on leveraging the relationships across documents for faster decisions, including:
Transactional Due Diligence – Acquisition, divestiture, or Trade
Production Interruption – Shut-Ins and Cessation of Production
Litigation Coverage – Deducts Demand Letter Research & Review
READY FOR MORE?
.