ThoughtTrace's Director of Education and Enablement was recently interviewed by our partner Skilljar for a case study on ThoughtTrace Academy. Skilljar highlights how ThoughtTrace uses its platform to achieve our mission to engage with customers along their journey and use ThoughtTrace software to its full potential.  From onboarding to certifications for advanced users, ThoughtTrace Academy leads the way for education and enablement. Visit ThoughtTrace Academy today or contact your Customer Success Manager to join us in making the most of your ThoughtTrace experience and even earn CE credits along the way!
Read the full Skilljar article here.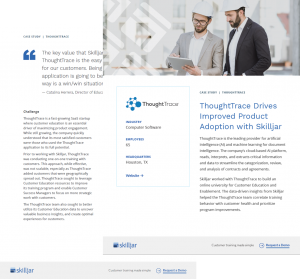 About ThoughtTrace
In 2017, ThoughtTrace launched the first industry-specific Document Intelligence and Contract Analytics platform that provides value on day one with minimal training and setup. Leveraging AI/ML as a complement to human expertise, the ThoughtTrace platform identifies critical obligations in contracts exponentially faster and with greater accuracy than traditional methods. ThoughtTrace reads, organizes, and surfaces data that gives users operational agility, actionable insights, and decision-making superpowers.

.