WATCH THE FULL INTERVIEW:
Reserve Your Seat for the Official Launch Event: November 5, 2020.
ThoughtTrace is announcing a big change this month… a unified platform that brings users the world's first Document Understanding solution that works on day one. We sat down with the ThoughtTrace Executive team to ask a few questions about the new platform. Nick Vandivere, CEO, Kurt Kemmerly, Chief Customer Officer, Joel Hron, Chief Technology Officer, and Daniel Droke, VP of Engineering share their thoughts about different aspects of this new platform: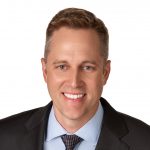 Q: Nick, let's take it from the top. Why does ThoughtTrace exist?
A: Well, for years corporations have struggled to really understand the value locked inside their documents, so they've attempted to put different solutions together – from traditional document management systems to contract life cycle management systems, and even train your own AI products. ThoughtTrace was built to bring intelligence out of existing documents and was redesigned to truly address the whole problem – document understanding. 
Q: What value does that provide to organizations?
I think the ultimate value is in the creation of new information. If we can create new information that creates better decision making going forward…it absolutely transforms the way people do business. The impact is strategic, not just tactical, and ultimately helps guide how the company is going to make the most of their time, resources, and assets going forward. At the end of the day, it's about using a single tool that takes very large problems and makes them small.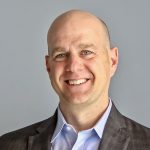 Q: Kurt, what does "making large problems smaller" look like in day-to-day operations for ThoughtTrace users?
A: ThoughtTrace allows people to focus on the things that matter most. When people are looking at documents, they're treating everything the same, because they don't know where or how to find the information they need. They think they either must put eyes on everything, or just take a small 'representative' sample. They're not necessarily focusing on what matters. ThoughtTrace brings the items to the surface that require attention, which is generally a very small portion of each document. Usually, this information is practically inaccessible – requiring months of manual review and a large cost to find it.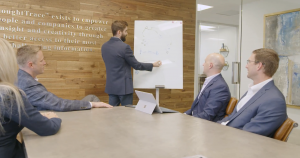 Q: Why is this ability important to businesses?
A: Because all information isn't created equal… some information has a material impact on an organization or to a person – from an economic, strategic, or decision-making standpoint. By giving the user only the necessary and impactful information exactly when it's needed, ThoughtTrace allows them to ask deeper questions, maintain extremely agile operations, and supercharge productivity while ensuring the interests of the organization are protected. Our customers have literally saved millions of dollars, achieved award-winning digital transformation success, and revolutionized how they work with contracts.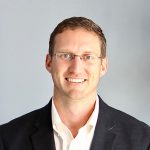 Q: Joel, what are some of the drawbacks customers have experienced with legacy systems on the market?
A: They apply AI and machine learning to content, but they use a 'train your own AI' approach that requires tremendous effort just to get the technology to a point where it performs the task it was hired to do. This is really frustrating and requires a massive investment of people, time, and resources to build, maintain, and ensure that the product continues to deliver value.
Q: Can you explain some of the key differences between ThoughtTrace and other solutions?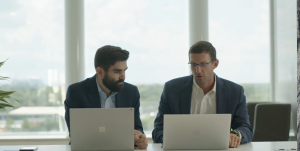 A: Rather than building a product that still needs 6 months of work or more to create value, ThoughtTrace builds trained, industry-specific models that work on day one. ThoughtTrace continues to improve daily through secure, community input, and a team of subject matter experts who spend just as much time maintaining and improving our existing models as they do building new ones. A Document Understanding Platform that works out-of-the-box on day one is a game-changer for our customers. One of the distinct advantages of our platform is how we tailor our learning and our understanding to the domain and industry of focus.
Q: What is a Document Understanding Solution?
The ThoughtTrace Document Understanding Platform combines AI and ML to automatically classify, organize, and extract relevant data from unstructured documents; robust search and analytics on top of that data; and a secure and scalable means of managing that data and the underlying documents. This empowers businesses to access critical insights and take action on those insights in real-time, saving significant time and resources compared to the manual methods employed by so many today.
Using AI and Machine Learning to derive an understanding of what those documents say in a much more intelligent and seamless way allows our end-users to do much more with the information than what they could do previously.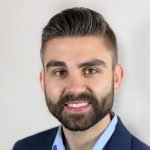 Q: Daniel, why do you think the ThoughtTrace mission is so important?
A: We live in an era of information crisis. There's either too much information, not enough information, or the information we have is wrong. Unfortunately, many businesses suffer because they don't know where their content is. So, when an event happens – from a daily fire drill question to a global pandemic – they need to understand what risks and opportunities they have within their document population. If they can't answer critical questions, they're unable to respond correctly.
Q: What value does this give your customers?
A: When customers use the ThoughtTrace platform, they are super excited because they are able to ask questions that previously they couldn't answer and strategize new opportunities that previously were not even a possibility. That is making big problems smaller on day one. When we make people more efficient resources, they are able to accomplish more and provide tremendous value to their organizations.
The ThoughtTrace Document Understanding Platform launches on October 27, 2020. See you at the launch event.


.