Like millions of other employees around the world, ThoughtTrace moved to a 100% remote work schedule a couple of weeks ago. While remote work directives left some organizations shuffling to make major adjustments, ThoughtTrace teams were fortunate to keep doing what they have the flexibility to do every day – securely work from almost anywhere in the world. As a cloud-based company, remote workplaces have been a reality for our employees and our customers from the very start. And in these unprecedented times, we hope that our mission to empower people and companies to greater insights through access to their most challenging information gives organizations exactly what they need to continue to succeed in their mission. The SOC II Type 2 certified ThoughtTrace platform is productivity-enabling, intuitive, and accessible from anywhere.


This means ThoughtTrace customers can ask questions of their most important documents, and immediately find the valuable information they need no matter what their current work setting looks like or the size of their team.  Rather than spend a fortune on extra manpower to manually review contracts, internal legal and business teams are empowered to find the answers themselves in a fraction of the time and cost it would take to outsource.
The current global situation adds layers of complexity and an element of urgency to an already difficult task – securely accessing sensitive documents to find valuable information..  Fortunately, you don't have to break the bank, or dedicate all of your internal resources to find the answers you need to drive business decisions. ThoughtTrace can do that for you accurately and securely with the staff you already have in place.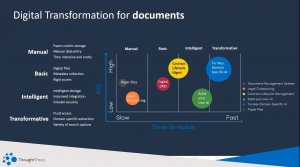 While we may naturally have an impulse to drop everything and react differently given the situation at hand, now is not the time to take the focus off the business initiatives already in place. Digital transformation initiatives will persist and become more important than ever.
Even amid our global challenges, the ThoughtTrace team will continue to help users securely work remotely while maintaining focus on digital transformation initiatives by:
Continuing to give users secure, cloud-based access to their most important information both in the office and remotely.
Creating efficient analysis with transformative search and in-app collaboration with both your teams and ours through workflow status, commenting, and more.
Providing secure access through multi-factor authentication and a secure Azure environment and proving our commitment to data security with our SOC II certification.
Giving users an open API to leverage ThoughtTrace structured data with other systems of record.
Hosting eLearning on ThoughtTrace Academy and the Community Portal to connect people to continued learning opportunities and each other. Visit ThoughtTrace Academy or ThoughtTrace Community to learn and connect today.
Continuing to provide the best support on the planet! You can contact our Support Team here.
Learn more about the ThoughtTrace platform, and contact us if we can assist you in mitigating contract risk from anywhere.

.