Document Understanding for Commercial Real Estate Portfolios
Featuring John Bibeau, VP of Real Estate
Watch the webinar recording:
What if you could drastically reduce commercial real estate due diligence to capitalize on opportunities faster?
What if you could organize and categorize thousands of leases, amendments and other documents instantly?
What if you could search for key clauses like Triple Net Expenses, Co-tenancy and Force Majeure across your portfolio of leases in a few clicks?
With ThoughtTrace, you can.
ThoughtTrace is the AI-powered Document Understanding Platform that accelerates real estate transactions and due diligence. The AI is trained on commercial real estate documents and works on day one.
Still don't believe it? Watch a ThoughtTrace user easily identify rent escalation clauses in the 30-second clip below. (Click here to watch the full video.)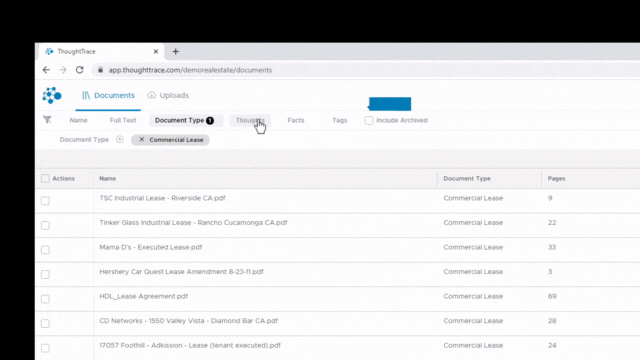 Are you a little curious?
Watch this introductory webinar on Document Understanding for Commercial Real Estate Portfolios with John Bibeau, ThoughtTrace VP of Real Estate.
Learn how commercial real estate users can ask the most specific, hard-to-find questions across a portfolio of leases, and get accurate answers from their documents in a few clicks
See how the ThoughtTrace Platform performs bulk uploads to classify, sort, and organize documents such as leases, amendments, exhibits, etc.
Understand how key lease provisions and facts are extracted to provide a deeper understanding of your leases and the options they contain
Get easy answers around complex lease clauses like Triple Net Expenses, Co-tenancy, and Force Majeure
Ready to learn more?
Request a customized demo centered around your specific commercial real estate needs.
About ThoughtTrace: